A Guide to Getting Straight Teeth
Braces are a type of treatment used in orthodontics to align the teeth and give the right shape to the arches. It serves essentially to align and straighten the crooked teeth and allows you to solve problems that go beyond the simple aesthetics of the smile.
The reasons why a person needs orthodontics during childhood or in adulthood can be found within the individual arches upper and lower or can be related to how they meet each other. The cause can quite often be a mixture of both. The upper jaw and line of teeth should be slightly larger and wider than the lower if both jaws are in the correct place. Very often people will have one jaw smaller or larger than it ought to be or positioned further back or further forward than is quite right and this will have an effect on the tooth position. Equally the line up of teeth may be too large or too small for the bone they are sitting on leading to either crowding or spacing. The loss of some teeth also can cause the remaining teeth to move into unaesthetic positions.
What type of orthodontic device to choose to solve these diverse problems? Let's see the options available.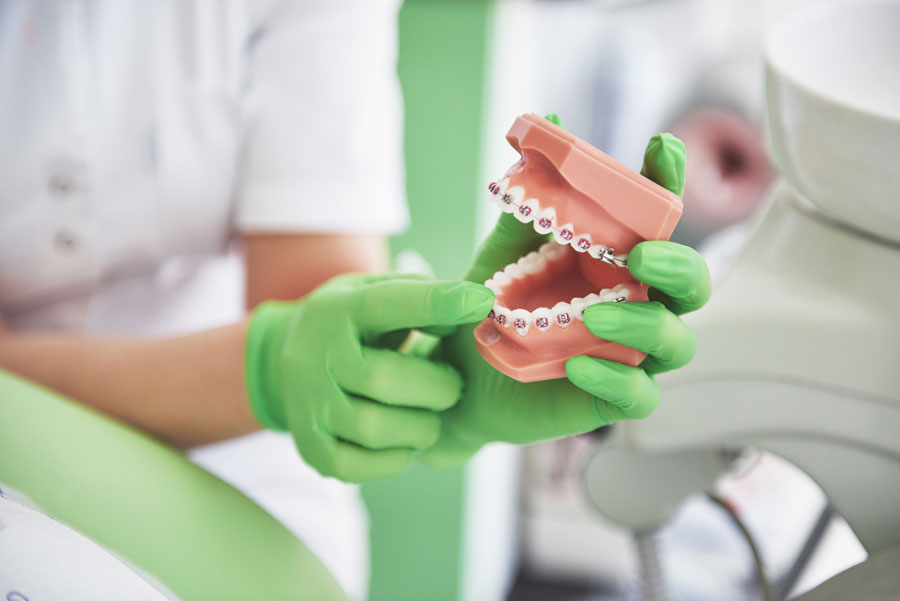 What type of Orthodontic Treatments are there?
Below we look at the pros and cons of each orthodontic treatment, all differ in how they work, the cost, the treatment time, so its important to choose the right one for you.
Am I suitable to get braces?
Children – Early Orthodontic Treatment
Braces appliance in childhood allows treatment of functional problems early so future growth is not affected negatively
For children from 6 to 10 years, the goal of orthodontics is to treat the underlying problem before it is developed thereby either avoiding orthodontics in the future or making future orthodontics much easier.
The common jaw-related cases that occur in children are when one jaw is too advanced compared to the other, or the palate may be too narrow. Early or interceptive orthodontics in these cases can be achieved when the bones are especially malleable. Unfortunately, kids can be cruel sometimes and sticking out teeth can be a cause of teasing. Correction of this problem early is unlikely to stop the need for further braces in the early teens but may get a child over a difficult time and will dramatically reduce the risk of trauma to the front teeth. Teeth that project are at a much greater risk of trauma, with over double the normal risk even with only moderate protrusion. The use of devices in some children can also avoid the need for surgery in adulthood.
We recommend early screening from age 6-7 to avoid more severe complications, especially if you make one of the following observations:
Your child's teeth overlap or are crowded
Some permanent teeth do not seem to grow back after the loss of milk teeth
There is a shift of the lower  jaw off to the side upon closing
Adults – Orthodontic Treatment in people over 16
In adults,  orthodontics helps to improve self-esteem and to treat various bite issues too.
The desire to show off a radiant smile is often the primary motivation for starting orthodontic treatment.  But far from being purely aesthetic, the use of an appliance in adults can also meet functional needs.
More and more commonly now adults are opting for a short course of orthodontic treatment before aesthetic dentistry like veneers or composite bonding to increase the quality of the final result.
Today there are many options for adults who are looking for an effective and discreet orthodontic treatment. Among them –aligner therapy, ceramic aesthetic brackets or indeed appliances on the inside of your teeth – that is the tongue side.
Short term orthodontics
This refers to a myriad of different systems such as Six Month Smiles, Invisalign Go or Quick Straight Teeth. All of these concentrate on the front six teeth which are sometimes called the 'social six'. Correcting the alignment of these the most visible teeth is often the most important thing to a person who may not necessarily be too worried about how their back teeth are meeting. Because of the more limited number of movements required this treatment can usually be finished in a more rapid time frame.
Teenagers -Orthodontic Treatment on permanent teeth
The vast majority of childhood orthodontics is carried out in early adolescence just after the final baby teeth have been lost. It is quite a good time to treat children as the teeth are ready and the children are ready. At this age, children tend to go along with things and are at a good age for putting up with the braces. It helps that quite a few of their peers will have braces and in our experience kids are very excited about getting braces in the main. Some treatments also seek to harness the adolescent growth spurt and encourage favourable growth of on jaw versus the other.
It is the ideal time to install an appliance as the results are more likely to be accurate and durable. Treatments between the ages of 11 and 13 are often more straightforward, faster, and complication-free.
Invisalign also has a line of treatment specifically for teenagers. This, however, demands a high level of care and awareness on the part of the teenager as if the Invisalign aligners are not worn they won't work and will be lost or broken.
Orthodontic Treatments you may consider
Get in Touch with us Today
Please call or email us via the contact form and we respond to you as soon as possible.