Tooth Fillings
One of the best ways to keep your teeth and gums healthy is to ensure that you stay ahead of any issues that could potentially lead to larger concerns like gum disease or the loss of a tooth. Even with a strict home dental care routine, cavities and minor tooth damage can occur. It can be quite a shock to be told you have a cavity that needs to be filled but that should be where the drama ends. Getting a filling at our dental surgery should be calm, relaxed and above all pain-free.
Once there are signs of any minor damage or decay on a tooth, it's essential that you get this treated by your dentist as soon as you are able. Restorative dentistry treats minor concerns and keeps them from escalating into larger issues that could ultimately lead to serious infection and advanced decay that results in the loss of a tooth.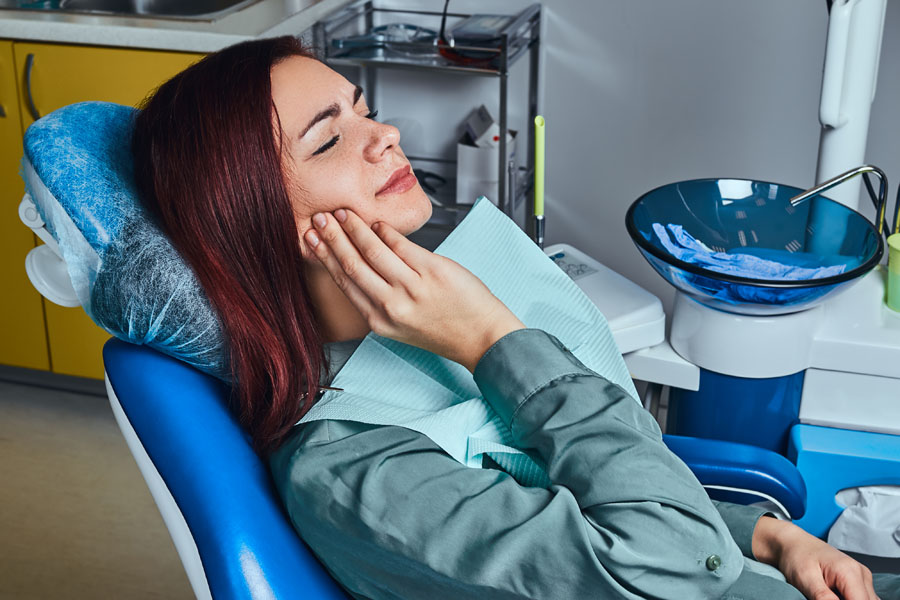 What is a tooth filling?
A cavity is a small hole on a tooth that is the result of tooth decay. The sugar we eat and drink creates an acidic environment that allows the mineral to escape our tooth leaving a hole behind. If the cavity is not treated by a professional, you will be putting the tooth at risk of further decay and damage as the decay will continue inside the tooth unabated.
The treatment will include removal of the decay and repair the tooth with a special material. For many years the filling material of choice was an amalgam filling (Metal Filling). This material was an effective option, but it was very visible once in place. A metal alloy, this filling material didn't provide the patient with the desired aesthetics.  The contrast in colour between the tooth and the metal filling is so great that it makes the filling stand out.
It was, however, the solution of choice because it offered the durability and strength needed to ensure it could stand up to the pressure of a bite.
Reliable white tooth filling materials (Composite Filling) are now more commonly used and amalgam is scheduled to be phased out in the next few years.  Dental composite comes in a wide variety of shades and matches the colour of the natural tooth. This allows patients to benefit from a beautifully natural tooth restoration.
Composite can repair almost all the damage that a tooth may have from fractures to large cavities. However, some of the larger fillings may require a porcelain crown to preserve the tooth from any further structural damage.
Almost as important as the advances in the composite material itself has been the improvement in the bonding or glue that sticks the filling to the tooth. This has given greater reliability to even larger white filling build-ups.
One of the reasons it's so important to keep up with your routine dental examinations is so that your dentist can identify cavities and other concerns in their early stages. If you can see noticeable damage or signs of decay on a tooth, then it's time to book an appointment with your dentist.
Are you living with a toothache or other type of sensitivity? Do you have a sharp edge cutting your cheek or tongue? Time to give us a call.
It is important to remember that quite often decay is symptomless and you may be completely unaware you have a cavity. This is one of the reasons a regular check-up and x-ray screening is so important. For some people, by the time the pain arrives, it is too late to avoid root canal treatment or an extraction.
Don't delay booking your appointment. The treatment of cavities and other issues with dental sensitivity will give you almost immediate relief from a toothache, and any other discomfort felt.
We offer a relaxing environment in which we place a high priority on the comfort of each of our patients. There will be no pain or discomfort felt during the procedure. Your dentist will take steps to numb the tooth and area being treated thoroughly. Once the area is numbed, the tooth filling procedure will begin.
Your dentist will carefully remove all signs of decay and damage. This should take just a few minutes.  Your dentist will carefully match the colour of the filling to the natural shade of your tooth. The filling material will then be bonded to the tooth.
A curing light will then be used to set the filling material so it hardens. The tooth will be buffed and polished, so it looks natural and healthy once more.
You can expect to spend anywhere from 30 minutes to an hour in the dentist's chair, based upon the severity of the damage to the tooth.
How much does a tooth filling cost?
At Cork City Dentist we offer our patients our combined knowledge and expertise, to ensure only the best in results. We provide a wide selection of competitively priced dental services and treatments. The price of your filling will vary depending on how large the filling is and where the tooth is in your mouth and range from 80-120 euro.
Take a look at our prices below to learn more about what you may expect to pay when you come into the clinic for a tooth filling. Book your appointment online or call the clinic to get started.
Treatment
Price
Periodontal therapy/treatment of gum disease per visit
€80
Composite white/aesthetic fillings- regular
€100
Composite white/aesthetic fillings -large
€120-€140
Extractions – routine
€90-€100
Extractions – surgical
€150
Small X-rays
€10 each
Root Canal Treatments - Incisor - (front) tooth
€400
Root Canal Treatments - Molar - (back) tooth
€650
Root Canal Treatments - Premolar - (side) tooth
one root-400 two or more roots 450
€400+
Are you struggling with the discomfort of a toothache? Do you have a crack or a chip in a tooth? To learn more about how we can help, book your appointment online or call 0214501306.
Just finished my one year invisalign journey with Micheal and his team. After he spent a whole hour for free with me explaining invisalign and was really reasonably priced, I knew I would go with him. He is SO kind and gentle, and was really helpful and attentive during my treatment, adjusting things when needed. He also recommended his colleague Dr Russell for composite bonding to finish off my teeth and I'm delighted I did, I'm so happy, I have the smile I've wanted my whole life now. I've recommended Michael to my friends with small kids and they all love him too. 100% recommend this dental practice. Thank you Michael!!!
Michelle Healy
March 4, 2023
Other Treatments you may consider
Frequently Asked Questions
Meet The Team
We have a Fantastic group of highly trained, friendly dental staff to ensure you get the best treatment in Cork.
Get in Touch with us Today
Please call or email us via the contact form and we respond to you as soon as possible.